Description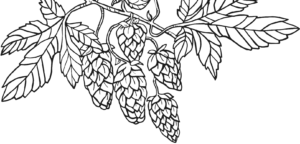 Common hops (Humulus lupulus) are plants of the Cannabaceae family. The medicinal raw material is the so-called cone (Lupuli flos). Its scales feature yellow-red secretory hair glands called lupulin. Hop cones contain a wealth of essential oils, a mixture of resins, flavonoids, flavone glycosides and tannins. The main components of the oils are terpenes and sesquiterpenes: myrcene, farnesene, humulene, sulfur compounds. The resin mainly contains bitter acids: humulone and lupulone. Among the flavonoids there are: xanthohumol, isoxanthohumol, 8-prenylnaringenin. The group of flavone glycosides also includes quercetin and rutin.
Hop cones are one of the most popular herbal raw materials in Europe. Hops were cultivated as along ago as ancient Greece and Rome to treat insomnia and calm nerves.
APPLICATION OF HOPS
relieves stress

has a calming and relaxing effect
makes it easier to fall asleep
supports deep, healthy sleep
reduces the symptoms of menopause
rejuvenates the skin, especially in the case of aging due to a lack of hormones
stimulates the production of collagen, elastin and hyaluronic acid
renews and regenerates the epidermis
increases the elasticity of the skin
inhibits hair loss
stimulates weakened hair growth on a hormonal basis
reduces the symptoms of acne and oily skin
reduces itching of the scalp
has analgesic, antispasmodic and antibacterial properties
soothes digestive problems
stimulates the secretion of saliva and gastric juice
has regenerative, rejuvenating and anti-cancer properties
COMPOSITION
100% hop cones (Lupuli flos)

Does not contain caffeine
Suitable for vegans
Gluten-free
Without additional preservatives
CONTRAINDICATIONS AND PRECAUTIONS
Due to the lack of research, hops are not recommended for pregnant women, during lactation and for children under 12 years of age.
DRIVING VEHICLES AND MAINTENANCE OF MACHINES
Hops may affect the ability to drive and use machines. It is not recommended to use hops in oral or inhaled within a 4-hour period before driving vehicles and operating machines – they may induce sleepiness.
TESTS AND CERTIFICATES
We are the only company in Europe to grow hops in accordance with the global standard of good agricultural and production practices (GlobalG.A.P) and in accordance with the methodology of integrated hop production issued by the Chief Inspector of Plant Health and Seed Inspection. Hops offered by Happy Hopfields are free from carcinogenic creosote.